Dermalux LED Phototherapy is just one of the award-winning treatments we offer here at Amy Jayne Aesthetics.
A non-invasive treatment that can rejuvenate your skin, with tangible results after just one treatment, Dermalux uses the power of light therapy to stimulate the repair of skin damage.
Dermalux LED uses state-of-the-art technology and the latest in clinical research to deliver a safe level of light that the skin needs, providing an effective treatment for a multitude of skin conditions, and does so with no pain and no downtime. Dermalux is a world-leading and trusted British brand for professional LED phototherapy.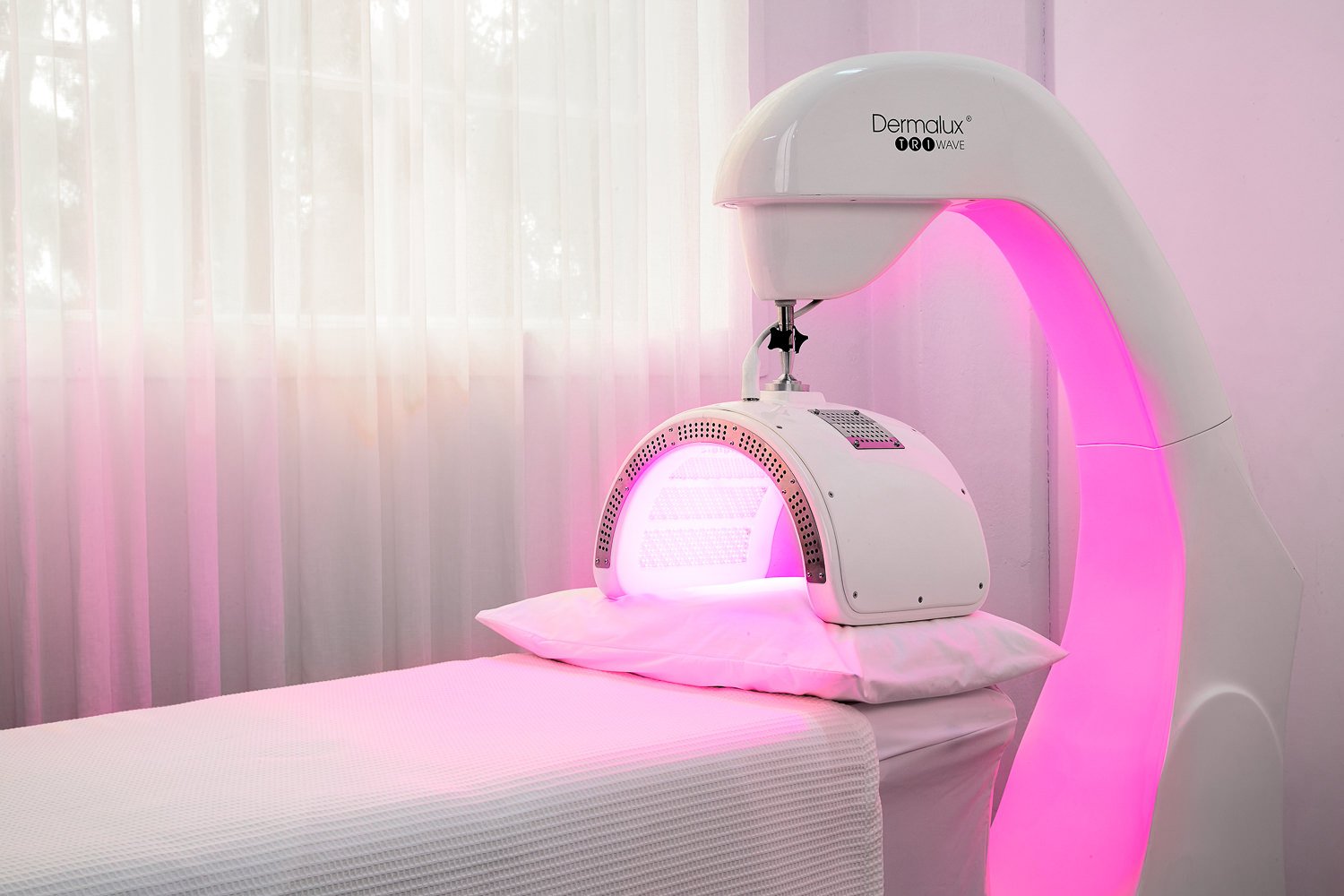 Consultation
Prior to treatment, a consultation is essential. Dermalux LED can be used to treat a range of skin complaints, including sun damage, acne, rosacea, eczema, psoriasis and scarring, amongst other conditions. The type of light, and to what level it is required, used in the Dermalux LED treatment will be completely personalised to you. A consultation will allow us to prepare adequately for this and suggest other treatments that can be used in conjunction with Dermalux LED that can allow you to get the best possible results for you. We do advise coming to your treatment with no make up and SPF on your skin.
The Procedure
The Dermalux LED Phototherapy procedure involves exposing skin to low levels of light energy. This stimulates cellular processes in the skin, providing an energy boost to stilled or slowed functions. Skin cells that have been energised regenerate at an increased pace, which improves the overall look of the skin, transforming a dull or tired complexion until it is healthy, radiant, and far more youthful.
Dermalux LED uses three types of LED light, either singularly or in combination. Red LED light is used to treat fine lines, wrinkles, and uneven skin tones, and provides a soothing and hydrating boost to the skin. Blue LED light has anti-bacterial properties and is ideal for treating acne and congested skin. Blue light also provides a skin-tightening effect and can be used for the treatment of Seasonal Affective Disorder, and bacterial and viral infections. A combination of blue and red LED light is ideal for the treatment of scarring and inflammatory acne, as it reduces swelling and inflammation. Infra-red LED light may also be used to tackle problems in the deeper layers of the skin and is the most intense form of Dermalux LED treatment.
Dermalux® Near Infrared 830nm Repairing Near Infrared light is the most deeply absorbed wavelength and works synergistically with Red light for optimum rejuvenation results. Exposure to near-infrared light at 830nm triggers the skin's anti-inflammatory processes to accelerate repair and reduce irritation and redness. Near Infrared light builds strength and integrity for compromised, environmentally damaged and sensitive skin conditions.
It is also clinically effective in the treatment of
age spots and hyperpigmentation
advanced skin rejuvenation benefits
relieves redness and irritation
reduces pigmentation
promotes healthy skin
ideal for the most sensitive skin and all skin types
How Does LED Phototherapy Work?
Phototherapy, meaning 'Treatment with Light' is based on the principle that all living cells have evolved to absorb and be influenced by light. Light is a powerful energy and when applied correctly, has a significant impact on how we look, feel and perform.
The mechanism of action is a natural response similar to that of photosynthesis through a process known as photobiomodulation.
The human body has an amazing capacity to heal itself and light plays a crucial role.
The treatment involves exposing the skin to specific wavelengths or nanometres (nm) from the visible (colour) and infrared (invisible) parts of the light spectrum. Wavelength selection is crucial to the success of the LED treatment as it determines how effectively the light is absorbed. It is so much more than colour choice.
Aftercare
It is safe to go in the sun and to apply makeup immediately after this treatment, as long as you are wearing an SPF of at least 50. The effects of Dermalux LED treatment are instantaneous, however, as a natural stimulation process, the full extent of the results of the treatment will reveal itself over a period of time, sometimes up to 6 weeks after the course of the treatment has finished! A course of treatment is recommended for long-lasting results with the best possible outcome for all skin types and conditions.
We are lucky enough to have two Dermalux machines at Amy Jayne Aesthetics Limited. The treatments we offer can be a stand alone treatment of 20 minutes, an add on with one of our Dermalogica / Laser facials or you can rent our Dermalux Flex over a period of 2 or 4 weeks.
LED Phototherapy is now recognised as an essential skin care treatment due to its versatility and role in the foundation of skin optimisation and good skin health.