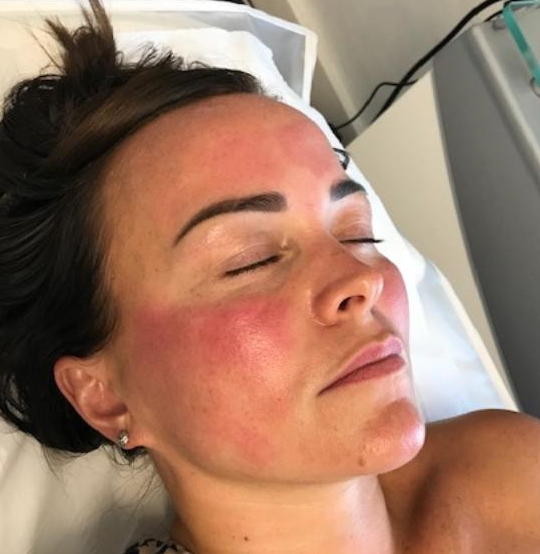 But what makes our Micro-needling treatment different, I hear you ask?
As you know Amy Jayne Aesthetics Limited is an award winning laser clinic so why have we now launched a micro needling treatment… I have had the clinic nearly 5 years and over the years, many people have asked about treating scarring, acne scarring, stretch marks, fine lines and wrinkles.
For those of you that already know me and have followed my journey will know that I don't just "offer" any treatment. I like to offer something slightly different, with this in mind, I research, I explore, I try, I learn and I wait…. Wait for the right product / treatment.
With that said the two machines I currently have in the clinic are from Lynton Lasers, so when Lynton Lasers launched the EPN pen I just knew I had to have it, not only because it's a Lynton product, it's a product that treats all of the above skin concerns and of course it offers something slightly different. The Electroporation is what makes our microneedling different.
So what is the EPN pen?
The EPN pen is the world's first Microneedling pen combined with Electroporation Technology. This professional microneedling pen is the world's first medically certified device on the market which combines the benefits of dermal needling with the advanced delivery of Electroporation.
This is not just any old microneedling pen… it's a Lynton microneedling pen that utilises electroporation technology to guarantee the best results! Microneedling prompts the dermis to activate the skin's natural healing processes as a result of the mild trauma caused by its incredibly fine needles. This increases both collagen production and cell turnover.
And what is Electroporation? Let me explain more…..
Electroporation is the use of electrical pulses or an electrical field which creates a physical opening into a cell membrane, allowing products to be introduced and delivered into the cell more efficiently.
The combination of Microneedling and Electroporation within one handheld device maximises the production of new collagen and elastin fibres, whilst delivering a safe and minimally invasive treatment for you. This revolutionary pairing of technology means that our clients' results are maximised as serums with high molecular weight are induced into deeper dermal layers.
The EPN works perfectly alongside a variety of other aesthetic treatments including laser, IPL (which we currently offer), LED light therapy and injectables which is something that Louise at LK Aesthetics offers at the clinic also.
So what can the EPN treat?
Fine lines and wrinkles
Acne and surgical scars
Hair restoration
Skin tone
Stretch marks
Skin texture
Skin laxity
Reduce open pores
What are the benefits of the EPN Pen?
By combining the well-known wound healing effect and collagen induction of the traditional microneedling, with the boosted product absorption from electroporation the EPN Pen gives us phenomenal results on fine lines and wrinkles, acne and surgical scars, hair restoration, skin tone, stretch marks, skin texture, skin laxity and reducing open pores.
And how does Microneedling Electroporation work?
Ultra-fine needles penetrate the skin at different depths, creating mico-channels which stimulate a wound healing response leading to the production of new collagen and elastin.
Once the micro-chanels have been created, the electroporation technology releases electro-stimulating pulses to increase the permeability of the cell membrane. This allows increased absorption of the serums applied to the skin for hydrate, healthy skin.
Miconeedling combined with electroporation significantly increased the amount of serum delivered within the skin compared with traditional microneedling treatments.
Can Microneeding Electroporation be used on all clients and ages?
Yes, younger skins that done yet require lifting and tightening can benefit from microneedling electroporation. Treatments can focus on specific concerns such as enlarged pores, or uneven skin texture to improve overall skin quality. Clients with laxity concerns can benefit from the dual effect of microneedling electroporation. As the EPN pen offers many different needle depths the intensity settings for electroporation, treatments can be easily customised to every different skin and level of concern. The EPN pen can be used on both the face and the body and is suitable for all skin types.
Ooooooh how does the treatment feel?
My personal experience is, it can be sensitive on the nose, chin and forehead but the results are worth the discomfort. Jodie and Lizzie have also had some treatments and they would say generally minimal discomfort. Topical anesthetics are available for those with really sensitive skin, if you wanted to use something like this it would need to be applied prior to the treatment by yourself.
After the treatment the best way I can describe the feeling is like you have been sun burnt and you will look quite red afterwards (the image used on this blog is my skin reaction immediately after treatment, this leads me onto downtime…
There is virtually no downtime. Slight swelling and redness are present immediately post-treatment but they should subside quickly, and you may get a little but of pin point bleeding on those sensitive areas.
How many sessions will you need?
Results can be seen after one session; however a minimum of 3 and up to 8 treatments, at 4 week intervals, will deliver the best results depending on the severity of the skin concerns.
What results should you expect?
Most clients will see an improvement in the appearance, texture and tightness of the skin 2-3 weeks after the first treatment. Best thing yet, your results continue to improve up to 12 weeks after the final treatment.
Amazing right!
So let's summarise this wonderful piece of kit.
Restores, regenerates and repairs, for younger looking skin
We can treat both face and body
Suitable for all skin types
Smooths wrinkles and fine lines (works wonders in conjunction with IPL)
Boosts collagen to lift and tighten the skin
Brightens dull skin
Supercharges collagen
Reduces large pores and improves overall texture of your skin
Reduces sagging skin around the eyes
Tightens crépey skin on the neck, chest, hands and body
Smooths and reduces acne and surgical scars
Improves skin tone
Improves and reduces the appearance of stretch marks
I feel I have answered the most common questions about our fantastic new EPN pen however if you have any further questions or would like to know more please get in touch.
Instagram : https://instagram.com/amyj_aesthetics
Facebook: https://www.facebook.com/amyjaesthetics
Email: amy@amyjaesthetics.com
And this leaves me to ask you one last thing….. Do you want to rejuvenate your skin at cellular level? Do you want to experience the superior power of our new EPN pen?
Book a Consultation – Microneedling Electroporation appointment today:
https://amyjaesthetics.book.app/
Thank you for reading my blog and thank you as always for supporting me and my small business.
Amy xx